Axminster Specialist Panels are particularly experienced in the range of lotus panels from the early cars such as the seven (7) series one (1), two (2) and three (3), through to the eleven (11) and the current Caterham models.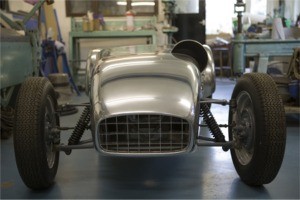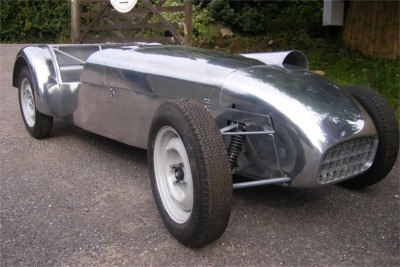 A recently finished Lotus Seven series 1 with a complete new body and bonnet duct as per the original car.
A small number of the Lotus and Caterham Sevens (in addition to the series 1) produced by the factory had aluminium wings and nosecones instead of fibreglass panels.  Examples that I have produced are in the picture below.  The chassis in the background is a Maserati 4CS.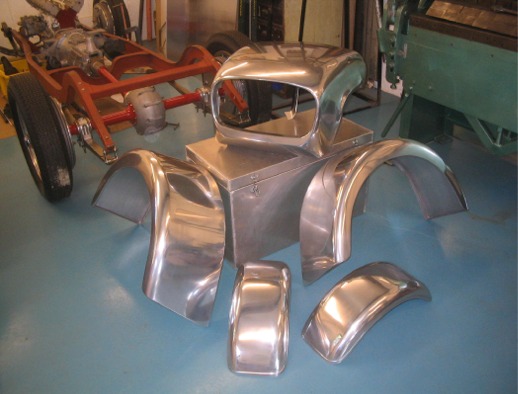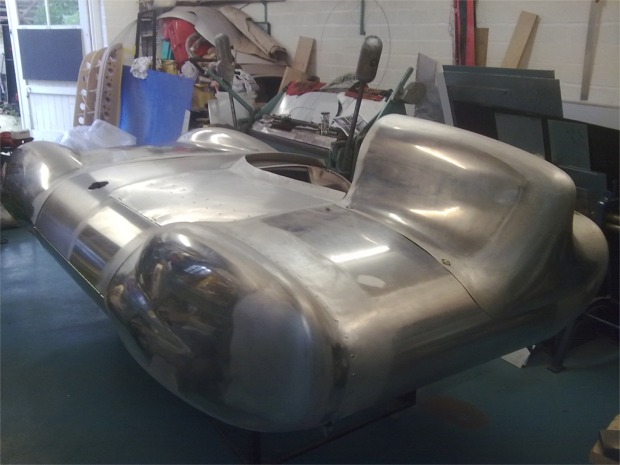 Series 2 Lotus 11
Please note; I am a one man business and I am concentrating on the fuel tanks, seats etc. Reluctantly, I will not be taking any more orders for bodywork on the 7s and 11s. 
Lotus 11
LOTUS 11 Fuel / Petrol / (Gas) Tanks
I have made numerous examples of these fuel tanks for both road or race use. This example is a standard tank with the original styled bolted in baffles. This tank hasn't had the filler neck welded in place yet as this is done once the scuttle is mounted and the correct angle on that neck can be established.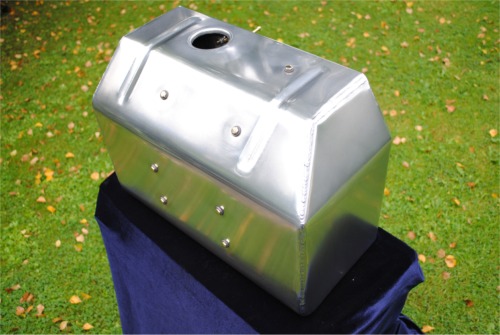 On the above example the brass outlet is mounted on the side of the tank pointing towards the cockpit. I can also place this on the front of the tank pointing forwards if required.
The below example is a safety foam filled version (suitable for FIA events). I can add the correct bolts for appearance. I make all of my safety foam filled tanks with a perforated tube immediately beneath the filler cap. When refuelling, this allows the incoming fuel to be absorbed quickly into the foam reducing the risk of fuel splashing back out and the fuel nozzle constantly "clicking off".
They can also be constructed in matching pairs, suitable for fuel injection, or with a discreet mount for a sender unit so that a fuel gauge can be used. These are 38 litres capacity each although I can make them to a different size if required.
 Prices;
a) Standard tank with bolted in baffles.                 £575 (no vat to pay) plus cost of cap and neck.
b) Standard shaped tank, safety foam filled.       £POA
c) Standard shaped tank, safety foam filled, with the correct baffle bolts added for appearance. FIA suitable.                                                        £POA
These are without doubt the best available. 
Race style seats.
This is an authentic copy of the aluminium seats as used in Lotus 11s, 15s and early 7s. It is also suitable for a variety of other race and sports cars.
It's actually very comfortable with the minimum of padding (not supplied) to the base, and is very light. A very rapid race Caterham has one fitted. It is 390mm wide at the base. I can make these to different widths. Please contact with details.
These seats are not to be confused with more basic examples sold elsewhere. These have been fitted to various cars including ACs, Alfa Romeos, TRs and others.
Experience has taught us that angle of the back panel varies from car to car. We do make these seats in a number of seat back angles.
Please contact for details.
These are normally made with cut outs to suit harnesses.
Price; £475 (no vat to pay).
A pair fitted to a very nice Caterham.