Standard Lotus Elan aluminium tank.
The best quality aluminium fuel tank to replace the original steel unit. I would happily compare these to any others on the market.   Please see positive feedback on   lotuselan.net 
As with all of my tanks I make them myself and this is a straight swap for the original steel tank.
The sender unit mount is a separate machined boss welded on the inside and it allows for fitting of the original unit. Supplied with aerospace quality stainless steel allen headed bolts and washers, and a new gasket.
All of the mounting bolts and washers etc are included.
There is a drain plug in the correct position and the internal baffle design is an improvement over the standard item. 
Price:   £495 (no vat to pay).
We have previously sent these tanks to the USA, Canada, Australia and Japan as well as Europe to name but a few.
                             ———————————-
Lotus Elan fuel injected tank
This is the same as the standard tank described above but modified for fuel injection. I have made a number of these.
There is a correct shaped chamber, designed to prevent cavitation, within the tank from which the fuel is supplied. There is then a return back into the tank and that chamber.
The tanks normally have either -6 AN (Aeroquip style) fittings or a push on type.
Price:   £575 (no vat to pay).
Lotus Elan standard tank, safety foam filled.
These standard shaped and standard appearance tanks are made containing the correct safety foam which is FIA compliant. With the addition of the foam (which isn't cheap) the tank loses 2% fuel capacity.
The standard sender unit is used and it's movement is not fouled by the foam due to the addition of an aluminium baffle about that movement.
Price:  £ POA (no vat to pay).
Lotus Elan race tank, safety foam filled to full FIA specification. 
We can make race tanks to  suit the Lotus Elan in a variety of specifications. These might include having the filler neck in the standard position or elsewhere, such as having a filler cap and catch bowl (as required by race regulations) on the top of the tank as in the picture below. 
We can make the tank to your requirements such as fittings etc, and to different body widths due to larger inner rear arches being fitted. 
On the tank below the breather is beneath the catch bowl and designed so that fuel would not be lost under cornering. 
Price:   £ POA (no vat to pay).
Large Elan race tank, safety foam filled, with funnel above filler neck, suitable for FIA events.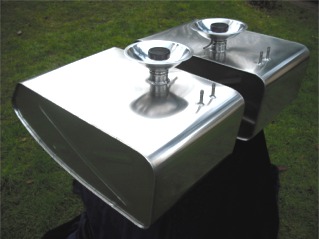 Twin Elan race tanks, safety foam filled, without sender units, suitable for FIA events.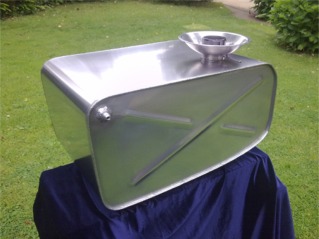 Race tank for car with larger inner rear wings.
If you are in the USA or Australia, it is still cheaper to buy my tanks and the postage, than buy other inferior examples. Current insured postage rate to USA is £120 (postage price to be checked when ordering). 
Aluminium water pipe to suit s1 and s2 Elans.
Also available is the aluminium top water pipe with swaged ends to suit the series 1 and 2 Elans .
Price;   £28 (no vat to pay).
Insured postage within UK;  £5.
Insured postage to Japan and USA;   £12.
Insured postage to France, £10
                                   ————————-
Below are some photographs showing different Lotus Elan tanks.
This shows a Lotus Elan fuel tank with a single -6AN fuel feed and the sender unit mount moved to the side of the tank.
A Lotus Elan tank with a female threaded fuel feed.
A Lotus Elan FIA racing fuel tank.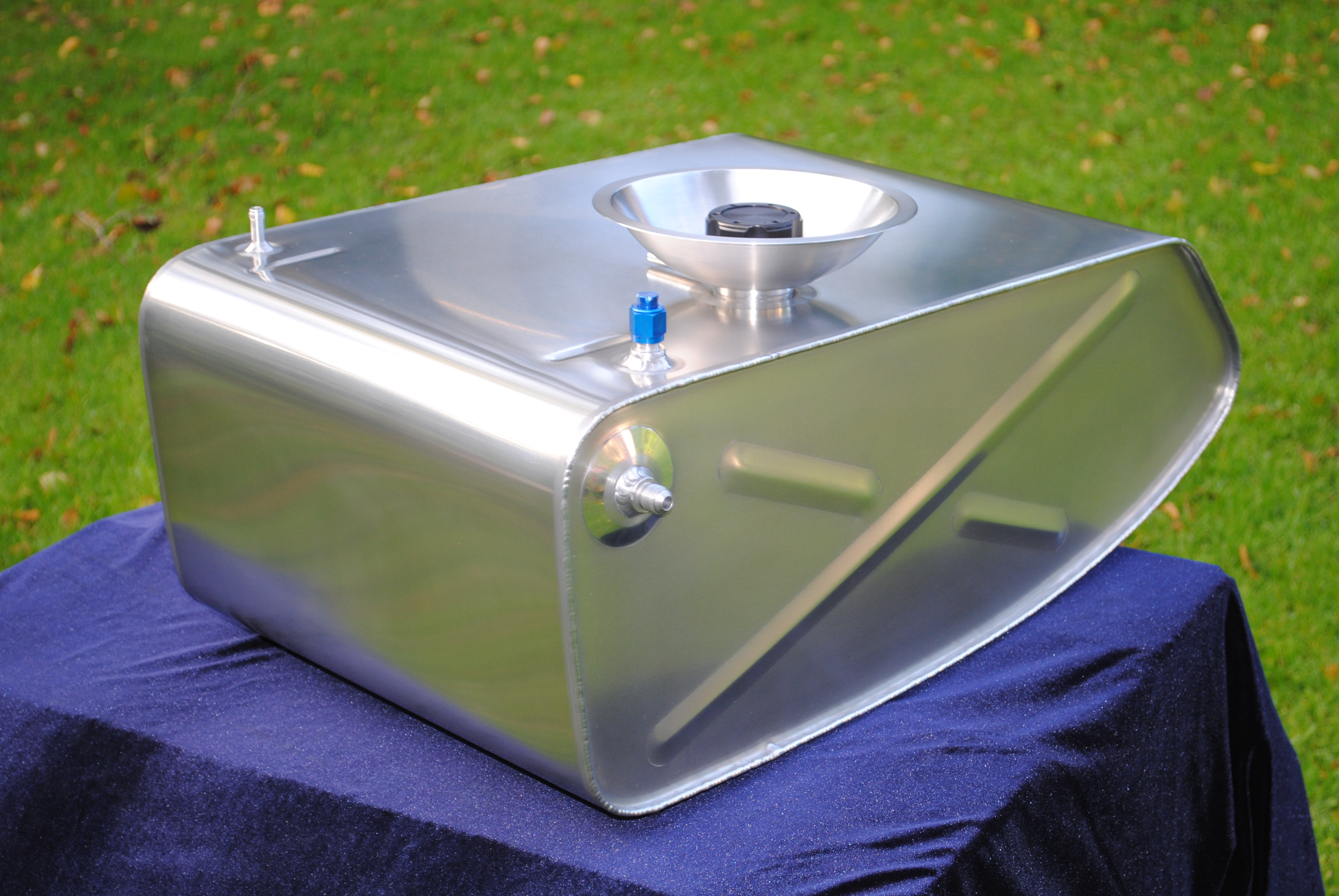 A Lotus Elan racing fuel tank with twin -6AN fuel pick ups.
A Lotus Elan fuel injected, safety foam filled tank.
A Lotus Elan fuel injected FIA racing tank.