There are two examples shown.The first is a standard tank with the original styled bolted in baffles. This tank hasn't had the filler neck welded in place yet as this is done once the scuttle is mounted and the correct angle on that neck can be established.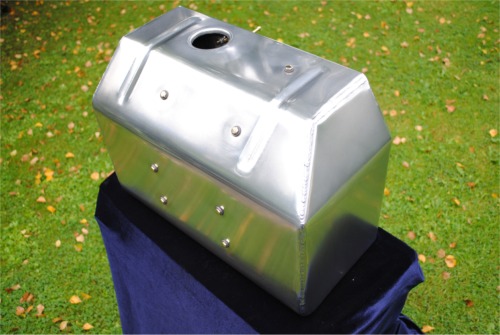 The second is a safety foam filled version (suitable for FIA events). I can add the correct bolts for appearance.
They can also be constructed in matching pairs, suitable for fuel injection, or with a discreet mount for a sender unit so that a fuel gauge can be used.
These are 38 litres capacity each although I can make them to a different size if required.
Standard Lotus 11 aluminium tank.   Price:   £575.00 (no vat to pay) plus cost of cap etc.
Safety foam filled (FIA approved) Lotus 11 aluminium tank.
Price:   £POA
Please note that this tank (with foam) also has an additional aluminium baffle immediately beneath the filler neck (inside the tank) which reduces the risk of either the fuel splashing back out when refuelling or the fuel pump nozzle constantly "clicking" off. 
 Safety foam filled (FIA approved) Lotus 11 aluminium tank with the correct baffle bolts added for appearance
Standard shaped tank, safety foam filled, with the correct baffle bolts added for appearance. FIA suitable. Price:   £POA